Hello Friday!
This week we bring you local Dubai lovers something pretty exciting. I've said before that I should have been born Scandinavian, I am all over Scandinavian aesthetics. So when I came across D.tales  I almost did a back flip. Well, not literally because I don't have those skills, but you get my meaning.
D.tales, owned by Lars Narfeldt from Sweden, is a new retail concept offering objects with a high level of design based in the Scandinavian traditions, do I hear an amen? Their contemporary high-end Scandinavian design is something that has been missing from Dubai. We spoke design and all things Scandinavian with Mia from D.tales and learnt a bit about this exciting local retailer.
Lars is a very interesting person with a background in the military and UN. He's been a design lover all his life and after moving to Dubai few years ago decided to turn his attention to what he's passionate about – Scandinavian design. And we are so glad he did!
The D.tales shop on Jumeirah Beach Road is, to be honest, quite different from many of the current furniture retailers in Dubai. D.tales stocks some of the  the most contemporary Scandinavian brands such as Muuto, Design House Stockholm, &tradition, One Nordic, Källemo, Örsjö, Sectodesign, Mille Notti and Bedcraft to name a few.
An exciting aspect of D.tales is that you can buy online with free shipping anywhere in the UAE. Now that lovers, is fabulous. The rest of the world is big into online furniture purchases, Dubai has lagged behind in that regard, so this is a step up for the UAE dwellers. However I would highly recommend visiting the D.tales shop as it is as lovely as it is inspiring.
I visited the shop a few days ago and took some pictures of what's currently in store, it has a kind of New York loft meets industrial type of vibe . I was suitably impressed!
Here is my pick for what's available online. With this Mayor Sofa being top of the lot! The shape and colour, bang on!
I would have to say the highlight of the shop for me was the lighting. Mia says 'the hot items at D.tales are these E27 bulb lights by Muuto,we had the pleasure of having its designer Mattias Ståhlbom visiting us during the last Downtown Design days. These fly out the shop.Our ladder shaped Verso shelf by One Nordic is another item which doesn't hang around for long!'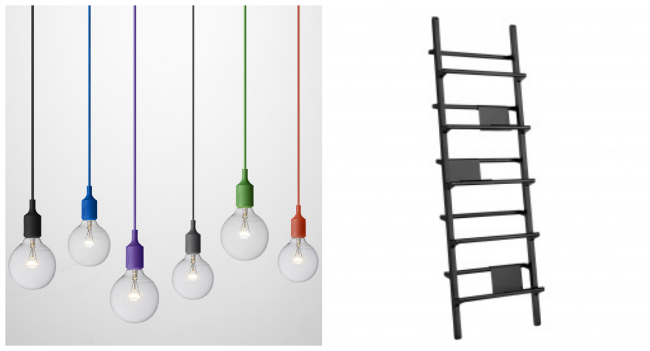 As far as Scandinavian trends, it looks like Copper and leather will continue to be popular materials as well as oak and walnut. Grey in soft furnishings is coming strong.
'At D.tales we are not looking to fill your homes with mass productions but instead with long lasting designs that tell stories. Stories about history, about passion, about purpose.' I, for one, love that ethos. Happy shopping lovers!