It has begun. It is in full swing and it's not a moment too soon, this room is a changing. I need to start by saying, this room needed an intervention. I was well aware of that for a while, but like most things requiring an intervention, I was avoiding the reality, I had put it on the back burner so many times I eventually lost my motivation. My excuse? Well, I don't have one. Other than the old proverbial there are not enough hours in a day, or some other cop out.
I decided to start off with what I considered the largest eye sore. The pale blue Ikea Hemnes cabinet, which was orginally used in my sons nursery and had ended up in my room by default, and did not co-ordinate at all with what I ultimatelty want to achieve . I do use it for extra drawer space so it has a purpose, but man was it all shades of wrong.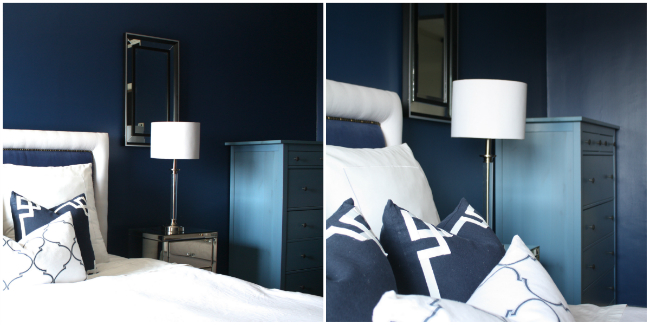 I decided it would be given a vamp-over, taken from baby blue to black. Goodbye baby, hello boudoir. I was not going to leave it there, the cabinet was going to get a little spice by adding gold. In the form of gold upholstery nails.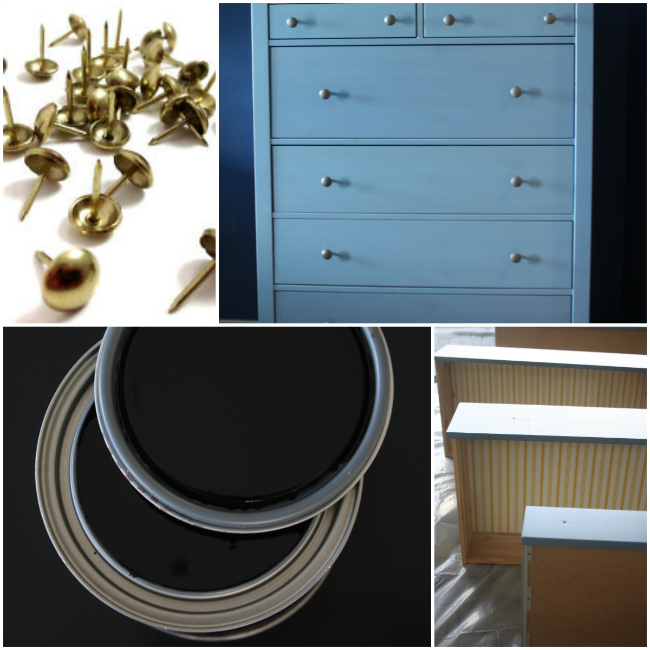 As far as the painting, I wanted high gloss. The kind only professional spraying would yield, but seeing as that was not an option due the fact that this room make over has to be done on the el cheapo, I decided to give the two in one Rust-oleum spray paint a whirl on this project. Now high gloss it was, I give it that much, but much to my dismay I could not get it even. I could see the stroke marks and that's not something I could live with. Plan B? Gloss enamel paint. After sanding the spray paint layer, I was much happier with the finish of the enamel paint. I also gave the antique silver knobs the once over with Ace Metallic Gold spray paint. Once I had given the cabinet sufficient time to dry I attacked step two. The nails.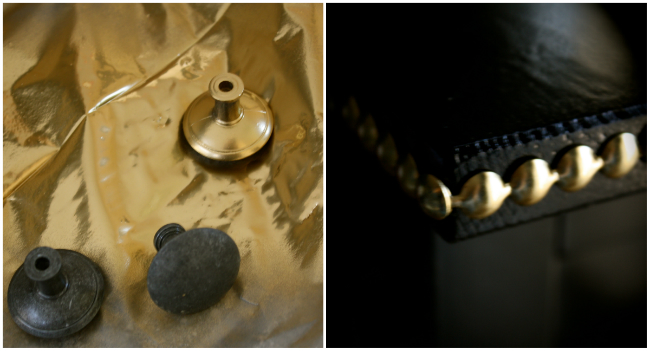 It has to be said I have never used upholstery nails myself, but thought how hard can it be right? For the most part, it wasn't. Well, other than the session where I hit my finger with the hammer and stood on a upholstery nail, that occasion was dotted with expletives! The thing that concerned me most was keeping my line straight, a skew line in not a good line. This can be a challenge but I followed the line of the edge of the cabinet and that kept me on track. I love how the studs take the cabinet and give it it's sexy back! Don't you think?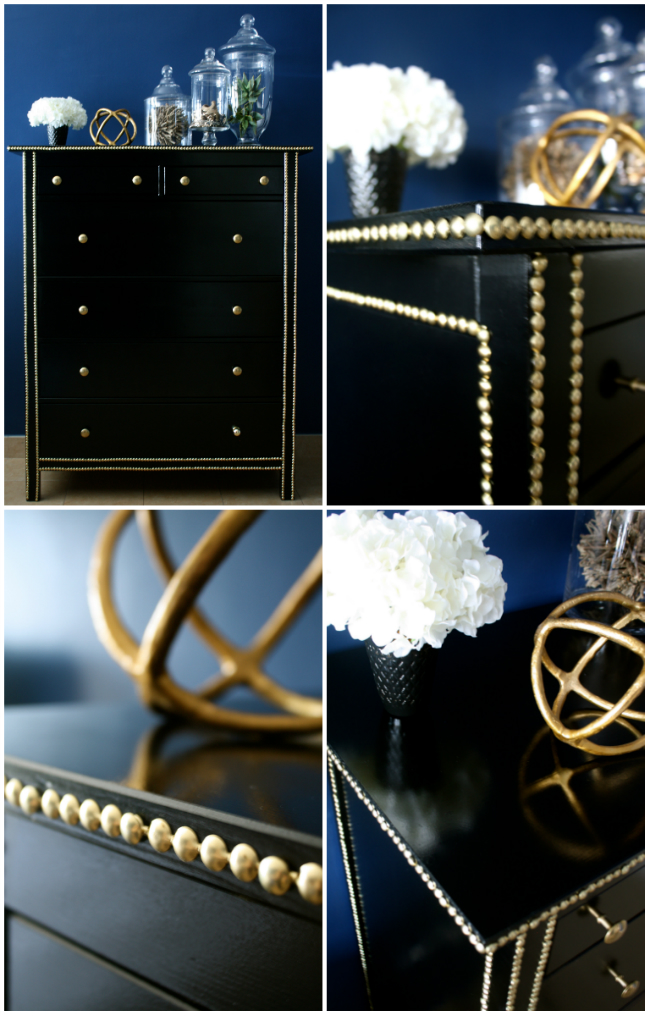 The jars I had bought a while back and had them in my office waiting for their resting place to be complete.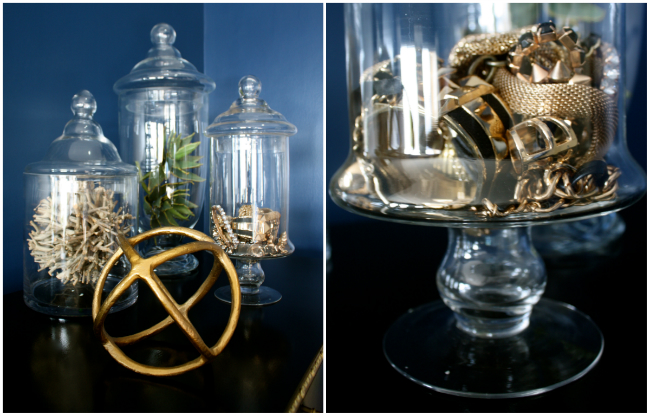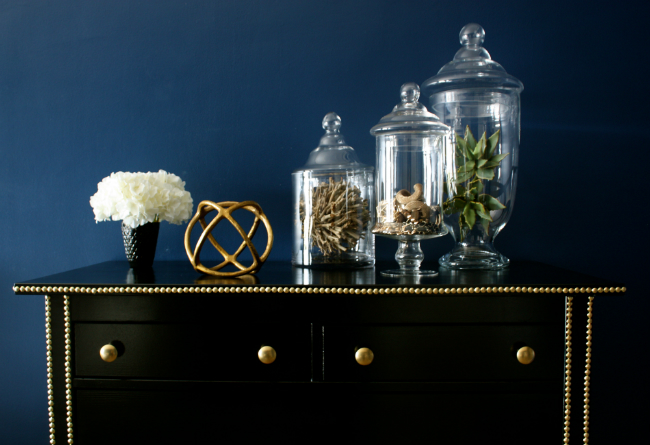 Quite an improvement right? I am now totes motivated to get this room done and am excited to bring you stage two!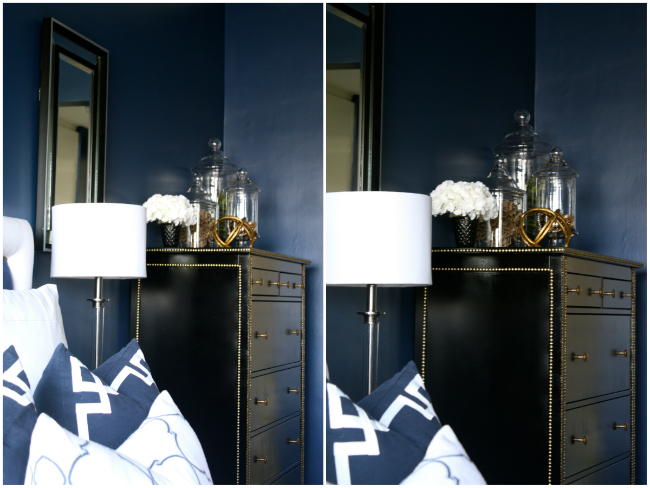 If you missed my inspiration post on colour and using animal print do have a look, as that is step two of the Master plan!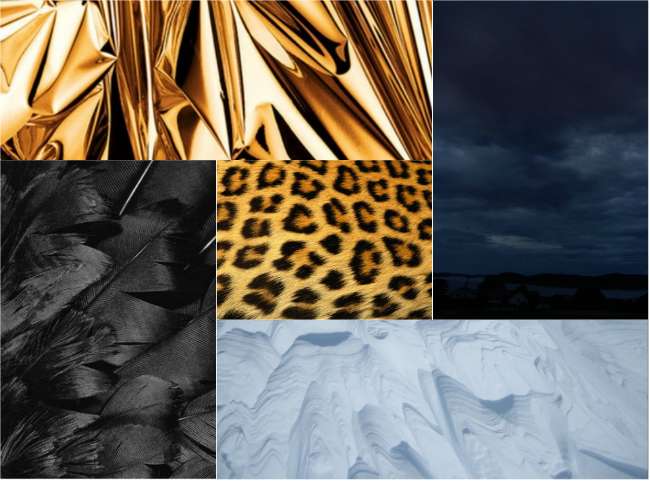 The best part of stage one? I no longer walk into my bedroom and cringe at the sight of that blue cabinet!
Stayed tuned for stage two of Project Master.

This DIY project was featured on Apartment Therapy!

Linking with Thursday Style  / 504 Main  / Redoux  / Miss Mustard Seed / Inspiration Gallery  / Remodelaholic / 36 Avenue / Spotlight Saturday / Delineate Your Dwelling / DIY Show Off / Carrie This Home / Thrifty Decor Chick / Upcycled Treasuers / Savvy Southern Style / Woods of Bell Trees / Nancherrow / Liz Marie Blog