Hello Monday!
So here at Brooke Eva we have a big announcement to make, one that will be taking me away from the blog and shifting my focus. For what will hopefully be four weeks. East Coast Creative announced their 2014 Creating with The Stars contestants and we have made it! Out of 299 entries, Brooke Eva is one of the 12 contestants. I am so honoured and if I'm honest, equally nervous! Those ladies have some serious talent. So I shall be directing all my DIY prowess onto that project. I shall share along the way on Facebook and Instagram, so join me there to keep updated! Would love the support!
But for now, let's talk flooring.
My guilty pleasure? Time on Pinterest. Usually listening to Painted Black, turned up so loud (earphones of course, I would never risk waking sleeping children) that no noise can penetrate. Looking at pretty images takes me to a happy place.
It's in this happy place that I fill my mental story boards with images of inspiration and build ideas for things to come. I have started a story board for the ultimate home, the forever type. When I will have this home? Well that's anyones guess. But in our current home, which we have owned for a little over four years now, we are planning changes. Well, more accurately descripbed as an extension. While I can see the end product being amazing, and so worth the stress and drama that it would entail, part of me wants to run for the hills at top speed at the thought of actually living through the renovations. We are currently in the early investigation stage, meeting with contractors and getting an idea of what we can achieve.
If Project Madness goes ahead, I will get to re-do the flooring downstairs, and upstairs if I can swing that. This notion gives me pure joy. The current flooring is a developer choice, we all know what those are like right? It's beige tiles and it's totally uninspiring. So naturally my dates with Pinterest involve pouring over flooring.
My first choice for our home would be a no brainer. No questions asked, decision done. I'm referring to herringbone parquet flooring, of course. It is the creme del la creme of flooring choices, in my opinion, and just exquisite. If this were my forever home I would most definitely install these. Are they not divinity?
My second choice would be to go black and white. Perhaps not the entire area, I image I would use black and white in the entrance hall and then make use of a second flooring option for the rest of the downstairs area. It's classic, whilst still packing some punch.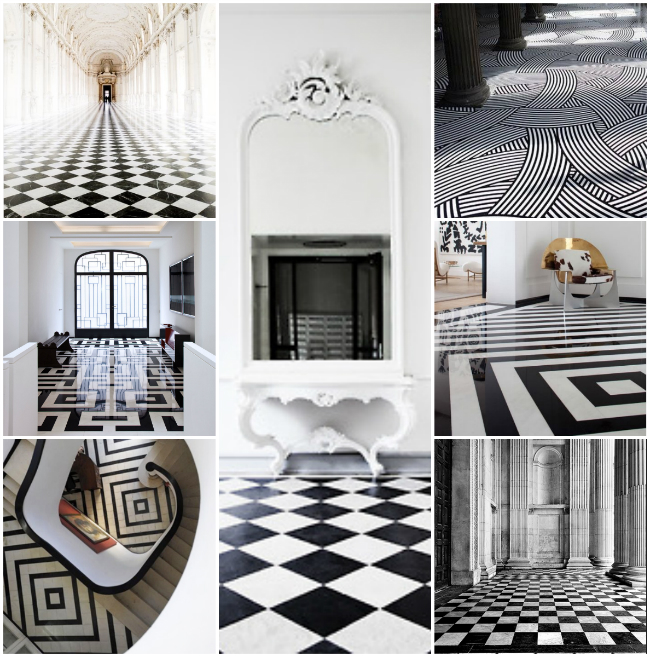 Currently a very popular choice of flooring, and widely used in Scandinavian design, concrete flooring. They are highly durable, easy to maintain and versatile. Extra bonus, they are cool. A major bonus to those of us Middle East dwellers! I also have a a thing for sheen, the way these floors reflect light is yet another plus.
How my story board looks? Black, white and grey concrete. It would be such an improvement on the current beige! Will keep you posted on developments!
Happy Monday!

Philip Klinger / Accent On Design / AD Magazine Ru / Rum Hemma / Hannas Room / What Every Woman Needs / The Home Style Directory / Nicety Live Journal / Remodelista / This Is Glamourous / Pinterest