Brooke Eva, my seven year old little lady requested a desk for her bedroom. I played it super cool and said I would think about it. Truth be told, I was all over the idea. I love a little room update! However it meant getting rid of the 'baby toys' as she referd to them to make space for the desk. I had thought those 'baby toys' were little girl heaven, however I was proved wrong by said little lady when she told me that 'she had outgrown them'. Right! It's a case of  me holding on to her being little and her pulling towards growing up. Because apparently at seven you are pretty grown up. Or so I am told.
I decided I would keep the new desk on the low down from her and do it all as a surprise and present it to her on Christmas Eve. This of course meant me painting the desk and stripping the chair in some pretty clandestine ways and hiding them from her, and from her younger brother who has not mastered the art of 'keeping things to himself' shall we say.
So it was literally done in bits and pieces when the kids were not around, which is not very often. So it took me some time.
I looked around town for a desk and decided on the Leksvik from the ever faithful Ikea. I chose it because of the shape and the price. Unfortunately it only comes in the dark wood so a little priming and painting was needed.

Now for the chair I bought a set of antique arm chairs in Singapore more than a year ago and they have sat in my office waiting for their perfect resting place. Well, one of them has found a home. It's a beauty which needed some work however, so I striped the varnish and gave it a good sanding. Definitely not my favourite work but you gotta do what you gotta do right?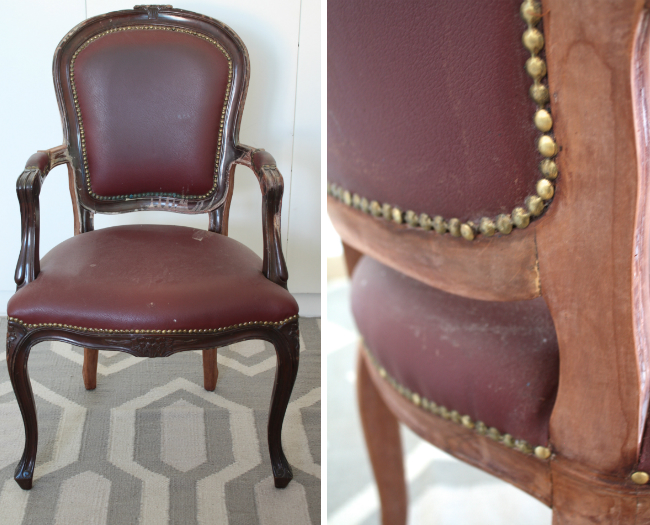 Once striped down to its original beauty I took off the pretty nasty faux leather and got to painting it white. I then sent the chair off to be reupholstered in a grey cotton trimmed with gold upholstery nails.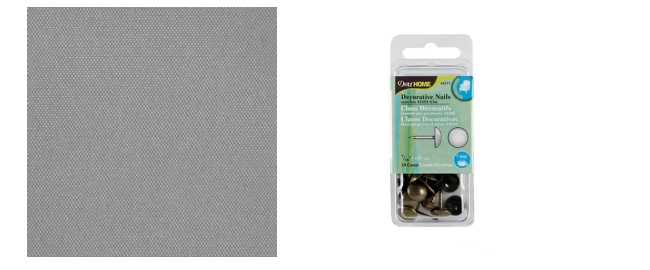 I love how the chair turned out, it's pretty right?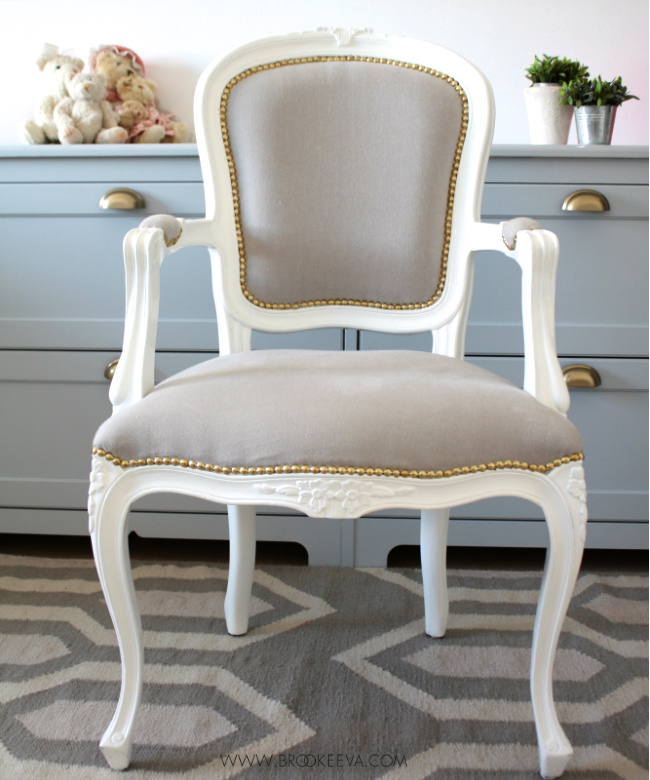 For the walls, I found some prints at Pottery Barn Kids on sale, they were super cheap and I framed them in these gold frames, but when I saw them on the white wall I decided they needed to be white as well, so out with the spray paint and job done!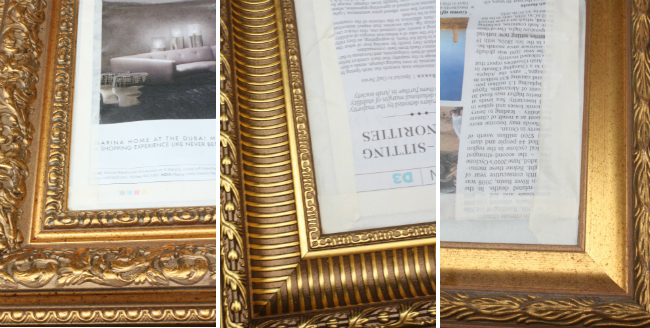 I had them matted picking up the colours from the prints to add some more colour seeing as thought they were going to be hanging on a white wall.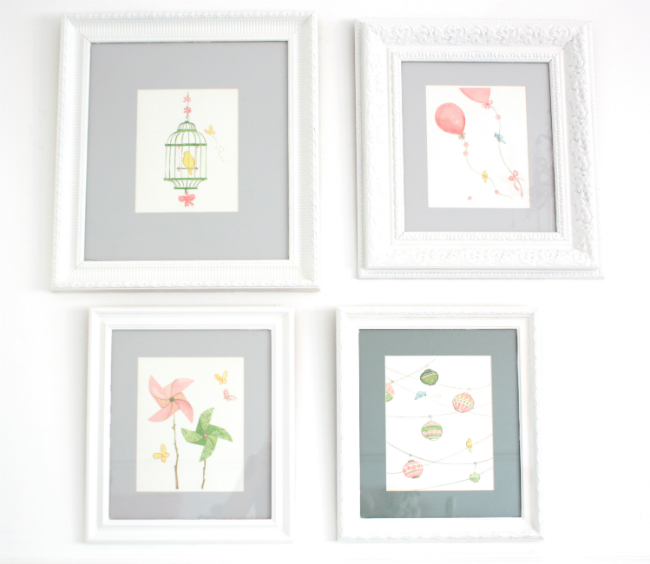 I was still stringing Brooke along in that I was thinking about getting her a desk when in fact the work was done and I was all set to surprise her on Christmas Eve. My husband took the kids to the park and I set about getting the show on the road.. setting up the desk and chair in Brooke's room so when she came home we could take her upstairs and give her her surprise! I was pretty impressed I pulled it off, she had no idea I was up to something at all. Which was a feat I wasn't sure I would succeed at! It's the little victories right?
Here is what the little lady came home to!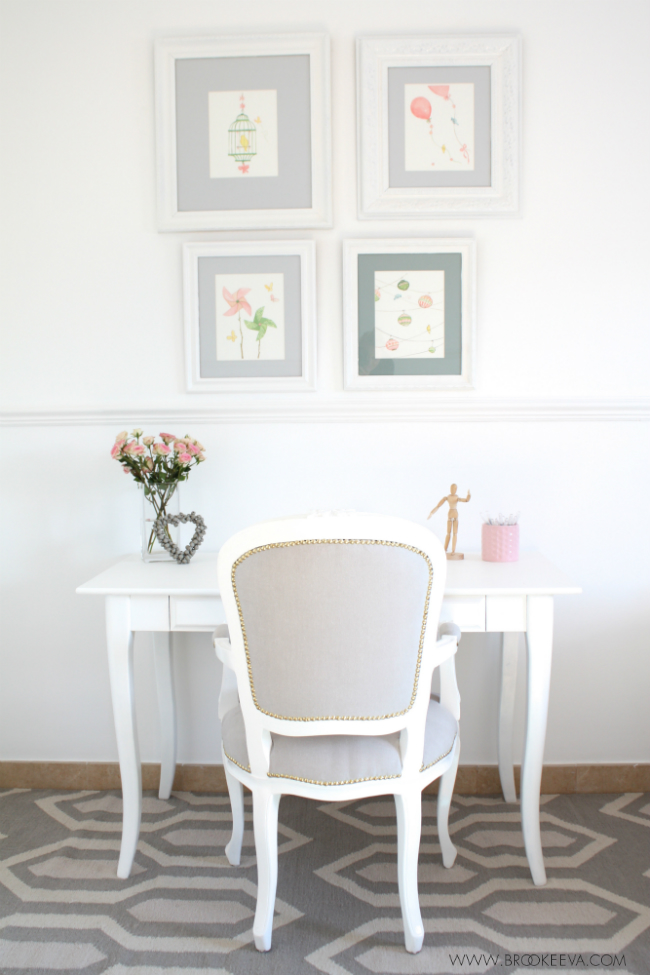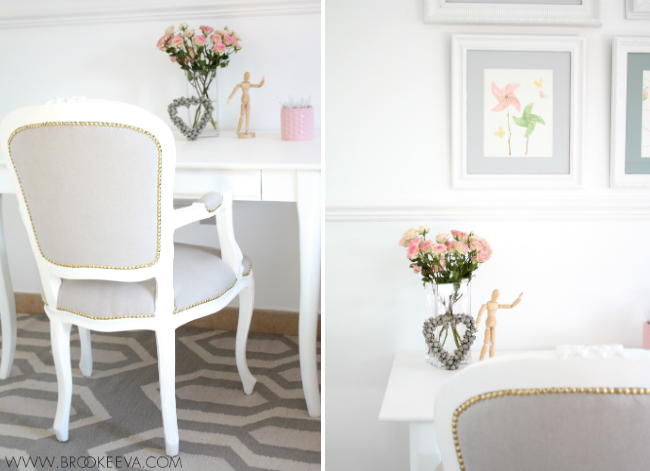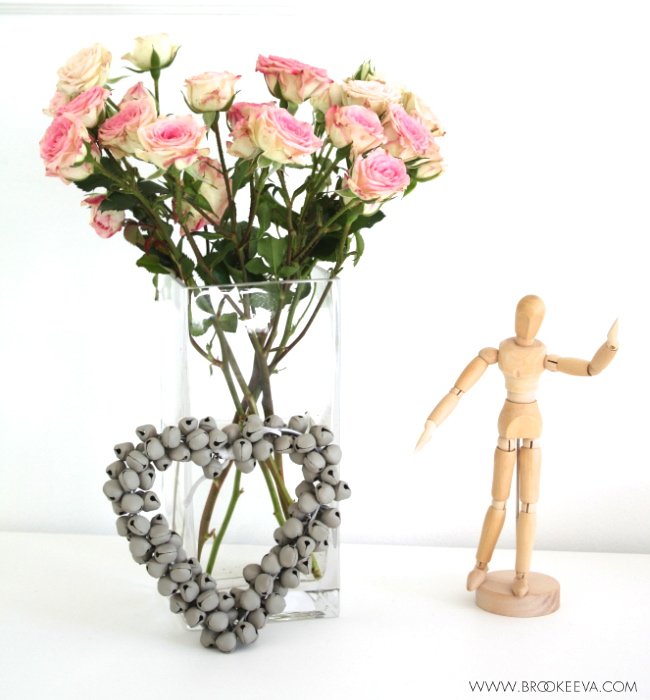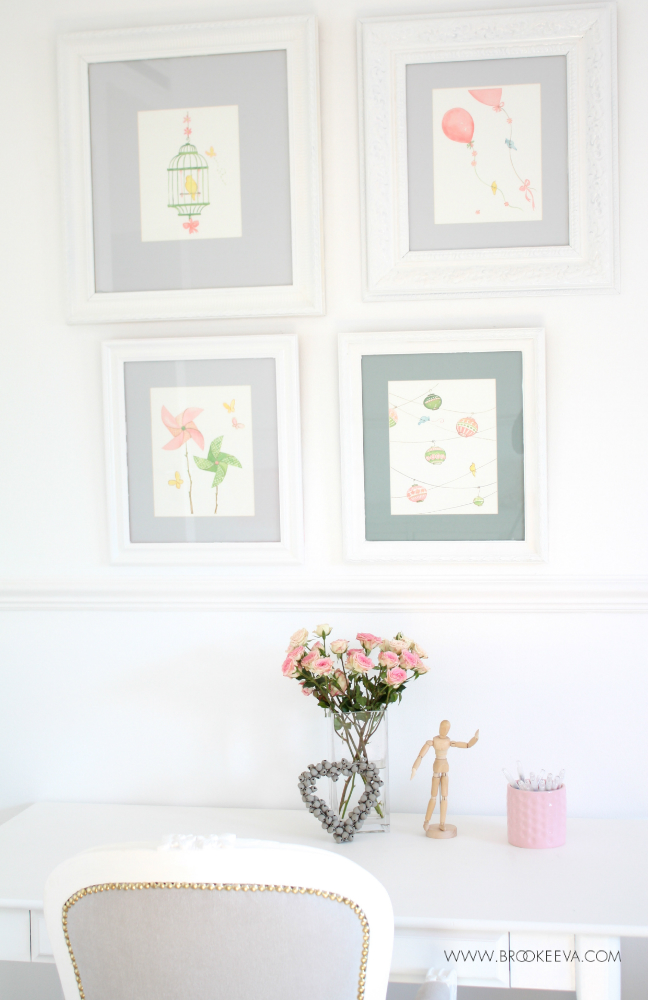 And the look on that little face when I uncovered her eyes, well thats something I will hold close.
Those are the things that count!
Until next time lovers.

Linking with Savvy Southern Style  , Domestically Speaking, The Girl Creative , Miss Mustard Seed  , 504 Main , Redoux, 36 Avenue ,Remodelaholic , Live Love Create and Life In velvet , DIY Show Off, Making Mondays, Under The Table and Dreaming, Rain On A Tin Roof, Carrie This Home, An Extraordinary Day, The Blissful Bee, The Makers Link Party and Thrifty Decor Chick